Handmade Exquisite Rose Floral Hues Silk 3-Panel Vest With Tassel Elements Can Also Be Worn a Scarf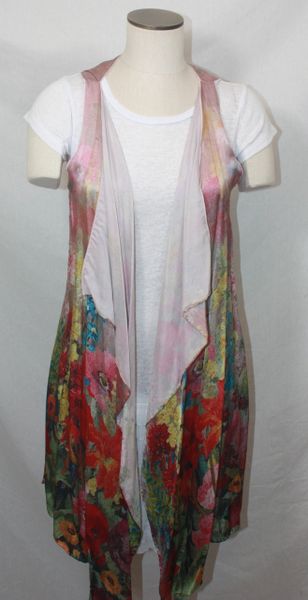 Handmade Exquisite Rose Floral Hues Silk 3-Panel Vest With Tassel Elements Can Also Be Worn a Scarf
Handmade Exquisite Rose Floral Hues Silk 3-Panel Vest With Tassel Elements Can Also Be Worn a Scarf
One size fits most for this flowing vest which can be dressed up or down for your versatile needs.
The vest can be tied in the front or used as a scarf. Just line up the arm holds, wrap around your neck and pull the tail through - Wallah! You have a lariat scarf.
Silk 3-Panel Vest/Scarf Washing Instructions:
1. Spot Cleaning:
a) If your silk scarf has just a small spot on it, you may be able to clean just the spot. Mix some liquid detergent with water (Do not use hot water).
b) Using a lint-free cloth, wet the cloth and lightly rub the spot on the silk scarf. You may not be able to tell if it is removed until it is completely dry.
2. Handwashing Instructions :
a) Using a basin to mix some liquid detergent with water ( Do not use hot water ).
b) Let the scarf soak 3 minutes and then dunk up and down several times. Drain the water from the basin fill with cool water. Let sit one minute, then dunk up and down.
c) Do not twist the silk scarf with strong power, do not use the washing machine, just wash the silk scarf by hand, do not mix other clothes to wash together.
3. Gently squish the water out of the silk scarf. You may wring lightly, but twisting silk too much may keep the scarf from regaining its shape.
4. Hang the silk scarf with a clothes hanger where it can drip on a basin for two hours.
5. Lay the scarf out on a towel to dry while smoothing out wrinkles with your hand, force the silk scarf into shape. Let dry completely.