Grey Hand Knotted Irish Linen with Metal, Gold and Gunmetal and Hematitie Beads Necklace Lariet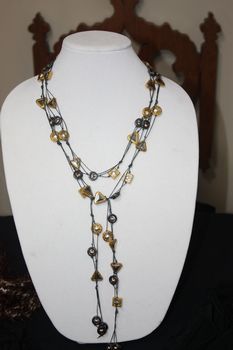 Grey Hand Knotted Irish Linen with Metal, Gold and Gunmetal and Hematitie Beads Necklace Lariet
Grey Hand Knotted Irish Linen with Metal, Gold and Gunmetal and Hematitie Beads Necklace Lariet
Can be worn multiple ways.

Upon ordering please note there may be slight variations to the beads based on availability, but the overall design and color will be similar. An emailed or texted picture will be sent for approval prior to shipment.
Shown with a grey, brown, white and black YRDUD vest, steel grey flutter scarf and black, brown and grey yarn necklace.