Turquoise, Black, Cream, Brown, Dusty Pink Heavily Embroidered Kashmir 100% Wool 4 Way Ponchos Pashmina Scarf with Tassel Accent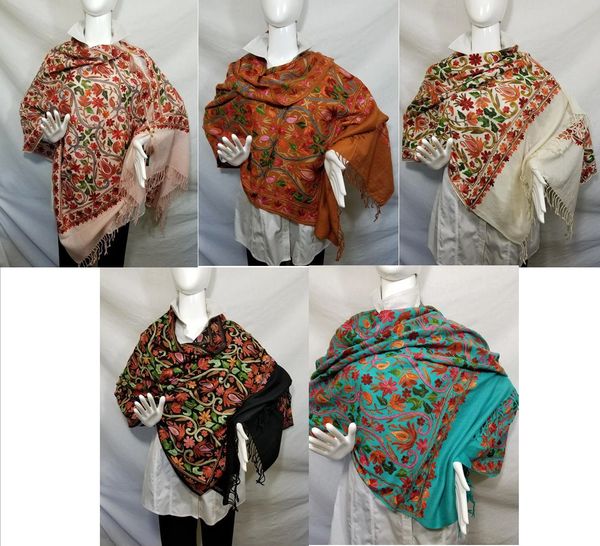 Turquoise, Black, Cream, Brown, Dusty Pink Heavily Embroidered Kashmir 100% Wool 4 Way Ponchos Pashmina Scarf with Tassel Accent
Turquoise, Black, Cream, Brown, Dusty Pink Heavily Embroidered Kashmir 100% Wool 4 Way Ponchos Pashmina Scarf with Tassel Accent
• MEASURES: 28" wide & 80" long

Absolutely stunning showstopper items. Any of the scarves only can be made into ponchos. Just send a request and I will add the option.

Ponchos/Scarves/Shawl can be worn 3 seasons. They are terrific for trips because they give you some versatility in your wardrobe. The fabric is adjusted with Tasseled clips and fits reasonably up to 20 at least.
Perfect to carry in a purse and use in a cold restaurant, subway, plane etc.
Poncho - Can be worn 3 ways:
1. Asymmetrically
2. With the tassels in back - makes the front have a cowl neck effect.
3. With the tassels in front - makes the front have a v-neck effect.
Scarf - There are multiple ways to wear the scarf as preferred.

Shawl - unclip the clasps to open to wear as a shawl over shoulders.
Can choose to buy just the scarf without the tassels, grommets and clasps.
Please see the How to Videos for a video tutorial.